FEATURES:
Designed for OEM Use
Digital Output
Reads High and Medium Density Barcodes
Visible or Infrared Light Source
Elliptical Viewing Area Enhances Performance
Requires Single 5 Volt Power Supply

DESCRIPTION:
Custom Sensors offers two standard optical assemblies that are designed to be incorporated into OEM equipment. Both units consist of an optical assembly mounted to a printed circuit board containing the digitizing electronics. The units differ in the orientation of the scanning aperture relative to the circuit board. They are referred to as front looking and bottom looking units. Both types can be furnished with either a visible red or infrared LED light source, and have elliptical viewing areas. Both have digital outputs that can be configured as TTL or open collector and are compatible with most decoders, including our Model DA1000.

TYPICAL APPLICATIONS:
The units are designed to read high and medium density barcodes in conjunction with an external decoder. The visible red light source is used in most applications. It can read codes where bars are printed in black or other colors, except red. Infrared units are used in high visible ambient light conditions, in photographic applications where film may be fogged by visible light, or in situations where infrared transparent films are placed over the barcode for security reasons. These units however, are not limited to barcode reading applications. They can also be used in photoelectric applications for detection of small parts or index marks. In this case the output would be used directly.



SPECIFICATIONS:


ELECTRICAL
  Power:	    +5VDC @ 100 mA. max.
  		    Noise and ripple < 50mV p-p
  Output:	    TTL logic level or Open Collector
		    to switch up tp 30 VDC.

OPTICAL
  Viewing Area:	    Elliptical spot 0.01" X 0.04"
		    Long axis parallel to bars.

For a code with a 0.01" wide small bar or space:
  
  Operating Range:  0.35" to 0.85" from front surface.
  Scan Speed:	    6 to 60 inches per second.

LIGHT SOURCES
  Visible models:   Peak output 617nM ±2%
  Infrared models:  Peak output 950nM ±2%

ENVIRONMENTAL
  Temperature:      Operating: 0 to 50°C
		    Storage:   -40 to 50°C


PART NUMBERS:
The part numbers always consist of seven characters. The chart below shows the significance of each digit.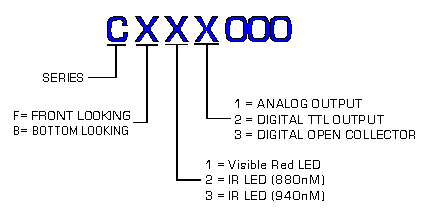 DIMENSIONS:
FRONT LOOKING MODEL
BOTTOM LOOKING MODEL

VARIATIONS:
Common variations include: ellipse rotated 90°, analog output, along with cable and connectors furnished to customer specification.