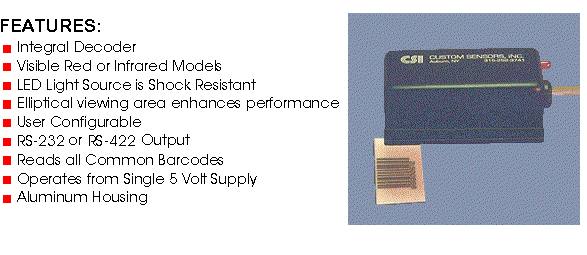 DESCRIPTION:
The BD Series of fixed beam barcode scanning products feature integral decoding circuitry and ASCII format output data. The units are available with either visible red and infrared light sources. The viewing area is elliptical rather than circular, with the long axis of the ellipse parallel to the bars, resulting in higher read rates than units with circular viewing areas. All major functions are user configurable using a serial data terminal, enabling the unit to be customized to a particular application. Configuration information is held in nonvolatile EEPROM, so configuration data is not lost when power is removed. The unit reads and decodes seven standard industrial barcode symbologies and automatically recognizes the type of code being scanned when more than one type is configured. Barcode data is output in serial ASCII format at RS-232 or RS-422 levels. All communications parameters are user configurable. The unit operates from a single five volt power supply and is contained in an anodized aluminum housing.


TYPICAL APPLICATIONS:
These units are designed to read and decode barcode symbols passing the scanner in a known orientation and at a specific distance range. The model with a visible red light source is used in most scanning applications. It can read codes where the bars are printed in black or other colors, except red. Infrared units are used in high visible ambient light conditions, in photographic applications where film may be fogged by visible light or in situations where infrared transparent films are placed over the barcode for security. The output can be connected directly to a host computer serial port without external circuitry.

SPECIFICATIONS:

ELECTRICAL
Power.............+5VDC@200 mA. max.

 
OPTICAL

Viewing Area......elliptical spot 0.010" X 0.040" (See Dimensional Drawing)
Operating Range...0.30" to 0.70" below baseplate.
Scan Speed........6 to 60 inches/second on codes with a 0.01" narrow bar.

LIGHT SOURCES 
Visible Models....Peak output at 617nM
Infrared Models...Peak output at 880 or 940nM.

INDICATORS
Red Led...........Blinks on for each good read.
 
COMMUNICATIONS
Type..............Serial ASCII, baud rate, stop bits and parity 
                  are user programmable.
Levels............RS-232 or RS-422
protocols.........XON/XOFF available.
 
ENVIRONMENTAL 
Temperature.......0 to 50ºC Operating, -40 to 50ºC Storage.


CONFIGURATION:
The following items are user configurable using a serial terminal or a PC configured as a terminal:

Code types............Code 39 (normal and extended), Interleaved 2 of 5,  
                      UPC/EAN/JAN, Codabar, Code 128, Code 11, MSI Code.
Label Length..........Up to 32 characters.
Check Character.......For Code 39, Code 11 and Interleaved 2 of 5.
Start/Stop Character..Code 39, Codabar.
UPC Decoding..........UPC only, UPC-E Expansion and supplementals.

COMMUNICATIONS 
Baud Rate.............150 to 19,200 Baud
Parity................Mark, Space, Even or Odd
Stop Bits.............1 or 2
Flow Control..........RTS/CTS Hardware Protocol  XON/XOFF Software Protocol
Character Delay.......A delay between the transmission of each character,   
                      up to 150 mS is user configurable.
Messages..............Several messages can be transmitted with the barcode data. 
                      They include: Header, Trailer, Scanner ID and 
                      a No Read Message.


SCANNER WIRING:

| PIN | RS-232 | RS-422 |
| --- | --- | --- |
| 1 | SHIELD | SHIELD |
| 2 | TxD | RxD(+) |
| 3 | RxD | RxD(-) |
| 4 | N/C | TxD(+) |
| 5 | GND | GND |
| 6 | N/C | TxD(-) |
| 7 | CTS | N/C |
| 8 | RTS | N/C |
| 9 | +5VDC | +5VDC |



PART NUMBERS: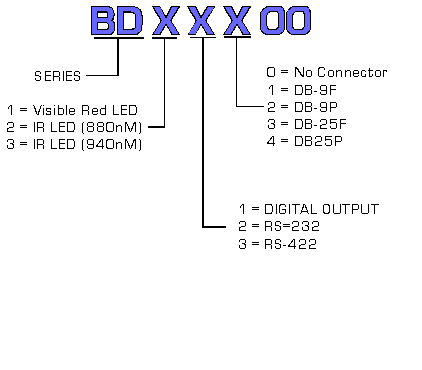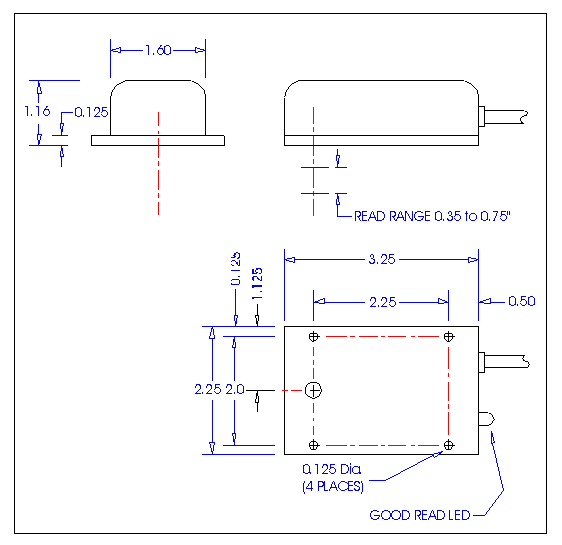 VARIATIONS:
Product variations are available on special order. Common variations include: wire type or length, connector, reverse ellipse orientation and TTL Level Output.